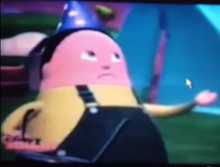 Wayne (nicknamed "Fickle") is second in command of the Higglykid Gang, after 2008 (in the Weegee/Higglytown Heroes Timeline), Wayne no longer wears glasses anymore. He can be quite bashful and sometimes random, he is one of Owli's enemies. Wayne is best friends with Kip, the sister of Twinkle and is Eubie's close friend. Wayne's spouse is Juani who was also featured in Pac-Pawleeh.
Wayne is also Wrane's archenemy. Wayne tends to randomly targets Kip, Owli or wanders off when chasing Owli. Wayne seems to have an interest in toast and is the same age as Kip. He is a member of the Weegee Killers and is Samaweegee's third in command of the Weegee Killers.
Ad blocker interference detected!
Wikia is a free-to-use site that makes money from advertising. We have a modified experience for viewers using ad blockers

Wikia is not accessible if you've made further modifications. Remove the custom ad blocker rule(s) and the page will load as expected.