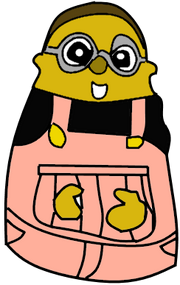 Whayn is another weegee version of Wayne. He was created when Wrane fused Higgly DNA, Weegee DNA, Wrane DNA and Wayheen DNA together. Whayn is friends with
Eawhbe
, best friends with 
Kawhp
and is the sister of 
Twawnkawl
. He is 5.22 years old and is vice-president of Hawgawleetawhn and the Hawgawlee Galaxy. Whayn is enemies with
Eubie
,
Wayne
,
Yubie
,
Waene
,
Twinkle
, Twinkel,
Kip
, Kup, Fran and
Juanita
.
Whayn has the ability to shoot flaming toast lasers from his eyes and can use the Whayn Virus. Whayn created an army called the Whayn Weegee Toast Enforcement.
Ad blocker interference detected!
Wikia is a free-to-use site that makes money from advertising. We have a modified experience for viewers using ad blockers

Wikia is not accessible if you've made further modifications. Remove the custom ad blocker rule(s) and the page will load as expected.